Cat Rock | MARINe
Cat Rock
Click here for Long-Term trends
Click here for Biodiversity Survey findings
Cat Rock is located in the Northern Channel Islands, within the Channel Islands National Marine Sanctuary, on Anacapa Island. This site is located in an Area of Special Biological Significance (Santa Barbara Island and Anacapa Island ASBS) within the Anacapa Island Special Closure in Channel Islands National Park. The site is actually the second reef to the east of Cat Rock. This site was used in a visitor impact study (Littler), and the monitoring plots were part of an experiment to measure impacts of trampling and scraping (VTN Oregon). The rocky point has extensive rocky intertidal with small sandy beaches on both sides. The reef is actually a series of raised reef with surge channels separating the rocks. There is a great deal of relief, and different heights are present on each reef.

Cat Rock is dominated by a mixture of consolidated volcanic bedrock, boulder fields, and cobble beach, and the area surrounding the site is comprised of a mixture of consolidated bedrock, boulder fields, and cobble beach. The volcanic rock rises one to two meters above the zero tide level, and the outer most reef breaks nearly all the wave energy at low tide. The primary coastal orientation of this site is south.
Long-Term Monitoring Surveys at Cat Rock were established in 1982, and are done by Channel Islands National Park. Long-Term MARINe surveys currently target the following species: Chthamalus/Balanus (Acorn Barnacles), Mytilus (California Mussel), Silvetia (Golden Rockweed), and Endocladia (Turfweed). In addition, motile invertebrates and mussel size structure are monitored at this site. Click here to view Long-Term trends at this site.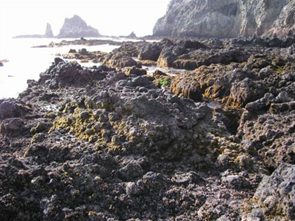 Biodiversity Surveys were done in 2001 and 2005. The Biodiversity Survey grid encompasses two sections that are approximately 12 meters (along shore) x 20 meters (seaward), and 15 meters (along shore) x 15 meters (seaward). Click here to view Biodiversity Survey findings at this site.
For more information about Cat Rock, please contact Stephen Whitaker (stephen_whitaker@nps.gov).
See
Also