Coquille Point | MARINe
Coquille Point
Click here for Biodiversity Survey findings
Coquille Point is located in Oregon, within the Oregon Island National Wildlife Refuge. This site is very close to the proposed offshore wave energy facility in Bandon, Oregon, and is highly sand influenced. There are a lot of birds at this site, including a large (>50,000 individuals) nesting colony of Common Murres. Some of other birds near this site include cormorants, gulls, pigeon guillemots, Canada geese, and kingfishers; many of these nest on the upper, very high sections of rock making up the reef. A stairway leads to the beach from the parking lot at Kronenburg County Park. This area has high visitation, especially during summer months.  This steep site consists of moderately uneven terrain, containing few cracks and folds. The high level of steepness makes for clear zonation patterns at this site.

Coquille Point is dominated by consolidated bedrock, and the area surrounding the site is comprised of a mixture of consolidated bedrock, boulders, and sandy beach. The primary coastal orientation of this site is north/northeast.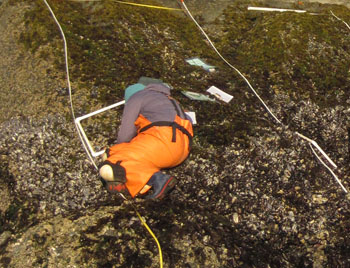 Biodiversity Surveys were done by University of California Santa Cruz in 2013. The Biodiversity Survey grid encompasses two sections that are approximately 8 meters (along shore) x 10 meters (seaward), and 10 meters (along shore) x 10 meters (seaward). Click here to view Biodiversity Survey findings at this site.
For more information about Coquille Point, please contact Pete Raimondi.