Ford Point | MARINe
Ford Point
Click here for Long-Term trends
Click here for Biodiversity Survey findings
Ford Point is located in the Northern Channel Islands, within the Channel Islands National Marine Sanctuary, on Santa Rosa Island. This site is located in an Area of Special Biological Significance (San Miguel, Santa Rosa, and Santa Cruz Islands ASBS) in Channel Islands National Park. A narrow reef of sandstone, backed by a sandstone cliff, runs east-west on the south side of Ford Point.  The sandstone forms smooth steps to the water, each gently slope away from the water.  The entire reef is tilted down to the east where the different zones grade into the next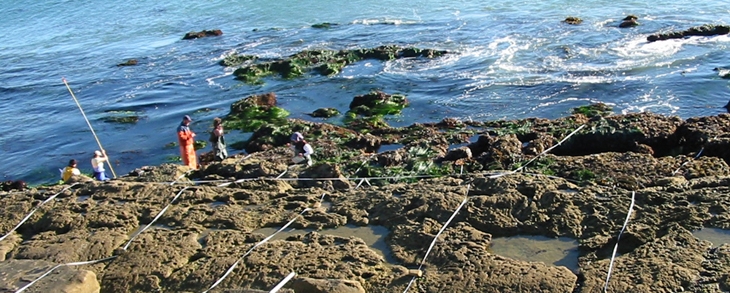 Ford Point is dominated by consolidated sandstone bedrock, and the area surrounding the site is comprised of consolidated bedrock. The sandstone at this site is soft and erodes quickly. The primary coastal orientation of this site is south.
Long-Term Monitoring Surveys at Ford Point were established in 1985, and are done by Channel Islands National Park. Long-Term MARINe surveys currently target the following species: Chthamalus/Balanus (Acorn Barnacles), Mytilus (California Mussel), and Endocladia (Turfweed). In addition, motile invertebrates and mussel size structure are monitored at this site. Click here to view Long-Term trends at this site.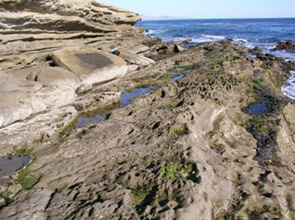 Biodiversity Surveys were done by University of California Santa Cruz in 2001 and 2017. The Biodiversity Survey grid encompasses one section that is approximately 30 meters (along shore) x 15 meters (seaward). Click here to view Biodiversity Survey findings at this site.
For more information about Ford Point, please contact Stephen Whitaker (stephen_whitaker@nps.gov).
See
Also