Harris Point | MARINe
Harris Point
Click here for Long-Term trends
Harris Point is located in the Northern Channel Islands, within the Channel Islands National Marine Sanctuary, on San Miguel Island, California. This site is located in an Area of Special Biological Significance (San Miguel, Santa Rosa, and Santa Cruz Islands ASBS) within the Harris Point State Marine Reserve in Channel Islands National Park. The moderately sloping site consists of extremely uneven terrain, containing many deep cracks and folds.

Harris Point is dominated by consolidated angular metamorphic bedrock, and the area surrounding the site is comprised of a mixture of consolidated bedrock and boulder fields. There is a small islet offshore from the site that rises 6-8 m high that affords the site some protection; however waves have been observed breaking over the islet. High rocks on the outer edge of the site give further protection from the prevailing NW swell.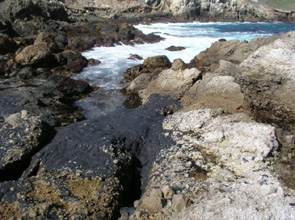 Long-Term Monitoring Surveys at Harris Point were established in 1985, and are done by Channel Islands National Park. Long-Term MARINe surveys currently target the following species: Chthamalus/Balanus (Acorn Barnacles), Tetraclita (Pink Barnacle), Mytilus (California Mussel), Hesperophycus (Olive Rockweed), and Endocladia (Turfweed). In addition, motile invertebrates and mussel size structure are monitored at this site. Click here to view Long-Term trends at this site.
For more information about Harris Point, please contact Stephen Whitaker (stephen_whitaker@nps.gov).
See
Also