Middle East | MARINe
Middle East
Click here for Long-Term trends
Middle East is located in the Northern Channel Islands, within the Channel Islands National Marine Sanctuary, on Anacapa Island. This site is located in an Area of Special Biological Significance (Santa Barbara Island and Anacapa Island ASBS) within the Anacapa Island State Marine Reserve in Channel Islands National Park, and is near the Anacapa Island Mussel Watch site. This site was established as a control site for visitation at Middle West (from which it is separated by a surge channel), as access is difficult here. This site is a flat topped reef between one and two meters above the zero tide, and has a steep slope to the water.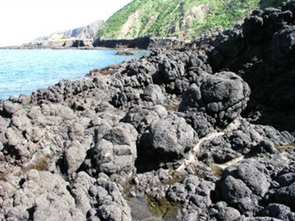 Middle East is dominated by consolidated volcanic bedrock, and the area surrounding the site is comprised of consolidated bedrock. The primary coastal orientation of this site is north.
Long-Term Monitoring Surveys at Middle East were established in 1982, and are done by Channel Islands National Park. Long-Term MARINe surveys currently target the following species: Chthamalus/Balanus (Acorn Barnacles), Mytilus (California Mussel), Silvetia (Golden Rockweed), and Endocladia (Turfweed). In addition, motile invertebrates and mussel size structure are monitored at this site. Click here to view Long-Term trends at this site.
For more information about Middle East, please contact Stephen Whitaker (stephen_whitaker@nps.gov).
See
Also