Point Dume | MARINe
Point Dume
Click here for Biodiversity Survey findings
Point Dume is located in the South Coast region of California, within the Point Dume State Marine Reserve. This site is located in an Area of Special Biological Significance (Mugu Lagoon to Latigo Point ASBS). This site is near the Point Dume Mussel Watch site. This site is accessed through Point Dume State Beach. This gently sloping site has a steep drop-off at the end of the reef, and consists of moderately uneven terrain, containing few cracks and folds. 

There are tidepools downcoast of this site that are easily accessed by a stairway, however the site itself is likely infrequently visited due to tide dependent access around the rocky point. The Native Californian Chumash tribe inhabited this coastline for thousands of years and used this area as a sacred space. In 1542, the point was an important navigational marker for Spanish explorer Juan Rodriguez Cabrillo, but only received its name in 1793 when British sea captain George Vancouver named the craggy headlands Point Dume after Father Francisco Dumetz from the Mission San Buenaventura. During World War II, the U.S. Army used this site as an anti-aircraft artillery training area. It is believed that the top of the headlands was flattened after the war for commercial construction purposes. In 1979, Point Dume was acquired by the State of California and is being carefully and gradually restored to its pristine state.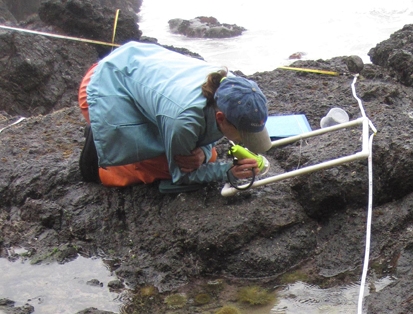 Point Dume is dominated by a mixture of consolidated basalt, boulder fields, and sandy beach, and the area surrounding the site is comprised of a mixture of consolidated bedrock, boulder fields, and sandy beach. The primary coastal orientation of this site is south.
Biodiversity Surveys were done in 2013. The Biodiversity Survey grid encompasses one section that is approximately 20 meters (along shore) x 10 meters (seaward). Click here to view Biodiversity Survey findings at this site.
For more information about Point Dume, please contact Pete Raimondi (raimondi@ucsc.edu).