Landing Cove | MARINe
Landing Cove
Click here for Long-Term trends
Click here for Biodiversity Survey findings
Landing Cove is located in the Southern Channel Islands, within the Channel Islands National Marine Sanctuary, on Santa Barbara Island, California. This site is located in an Area of Special Biological Significance (Santa Barbara Island and Anacapa Island ASBS) in Channel Islands National Park. This site was established a few hundred meters north of one of the historic study sites (Cave Canyon) used for a baseline study of the Southern California Bight (conducted by the Bureau of Land Management in 1978-79). This site may receive a small number of visitors camping in the summer, however sea lions outnumber people. The intertidal is a narrow, sloping bench flanked by high cliffs and an abrupt drop-off into the subtidal.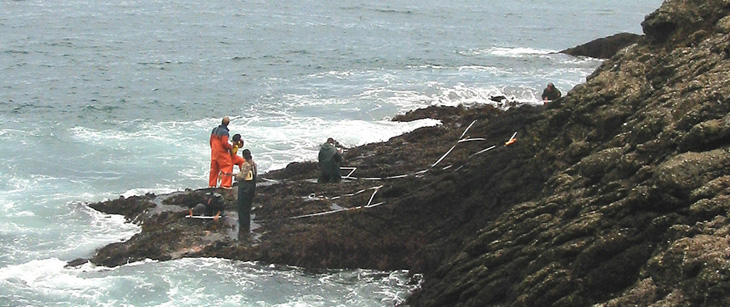 Landing Cove is dominated by consolidated volcanic bedrock, and the area surrounding the site is comprised of consolidated bedrock. The east facing exposure and high cliffs result in the intertidal being shaded in the late afternoon.
Long-Term Monitoring Surveys at Landing Cove were established in 1985, and are done by Channel Islands National Park. Long-Term MARINe surveys currently target the following species: Chthamalus/Balanus (Acorn Barnacles), Mytilus (California Mussel), Silvetia (Golden Rockweed), and Red Algal Turf. In addition, motile invertebrates and mussel size structure are monitored at this site. Click here to view Long-Term trends at this site.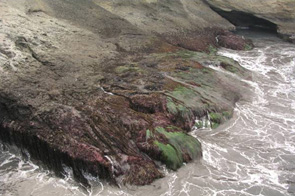 Biodiversity Surveys were done by University of California Santa Cruz in 2001, 2006, and 2020. The Biodiversity Survey grid encompasses two sections that are approximately 11 meters (along shore) x 10 meters (seaward), and 14 meters (along shore) x 10 meters (seaward). Click here to view Biodiversity Survey findings at this site.
For more information about Landing Cove, please contact Stephen Whitaker (stephen_whitaker@nps.gov).
See
Also