Post Point | MARINe
Post Point
Click here for Long-Term trends
Post Point is located in the Washington Salish Sea. Post Point is located approximately 1 Km downcoast from the nearest access point, which affords it some protection from human use, but it is one of the few rocky reefs within Bellingham Bay, and thus attracts a moderate number of tidepoolers during good low tides. This site is on a broad, gently sloping bench of moderate relief.

Post Point is predominantly consolidated bedrock, and the surrounding area is comprised of a mixture of consolidated bedrock, boulder fields, and pebble beach. The primary coastal orientation of this site is west/southwest.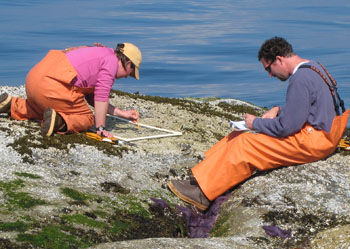 Long-Term Monitoring Surveys at Post Point were established in 2009, and are done by University of California, Santa Cruz and Western Washington University. Long-Term monitoring surveys currently target the following species: Balanus (Acorn Barnacles), Fucus (Northern Rockweed), and Pisaster (Ochre Star). Click here to view Long-Term trends at this site.
For more information about Post Point, please contact Melissa Miner (cmminer@ucsc.edu).