Sea Lion Rookery | MARINe
Sea Lion Rookery
Click here for Long-Term trends
Click here for Biodiversity Survey findings
Sea Lion Rookery is located in California in the Southern Channel Islands, within the Channel Islands National Marine Sanctuary, on Santa Barbara Island, California. This site is located in an Area of Special Biological Significance (Santa Barbara Island and Anacapa Island ASBS) in Channel Islands National Park, within the Santa Barbara Island State Marine Reserve. This site is adjacent to a sea lion rookery, and the intertidal receives a lot of trampling from the sea lions. The east facing intertidal shelf is an extensive flat reef 10-40 m in width, with irregularities in the rock leaving pools which never drain and high spots that may be exposed for hours during a low tide.  Surge channels cut into the reef and the edges drop abruptly into deeper water.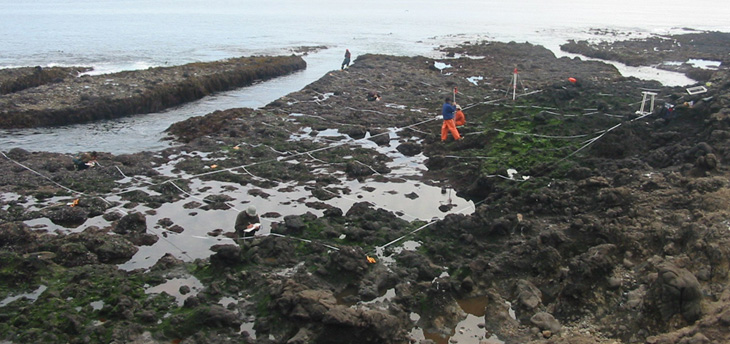 Sea Lion Rookery is dominated by consolidated volcanic bedrock, and the area surrounding the site is comprised of consolidated bedrock. The primary coastal orientation of this site is east.
Long-Term Monitoring Surveys at Sea Lion Rookery were established in 1985, and are done by Channel Islands National Park. Long-Term MARINe surveys currently target the following species: Chthamalus/Balanus (Acorn Barnacles), Mytilus (California Mussel), Silvetia (Golden Rockweed), and Endocladia (Turfweed). In addition, motile invertebrates and mussel size structure are monitored at this site. Click here to view Long-Term trends at this site.
Biodiversity Surveys were done in 2001, 2006, and 2020. The Biodiversity Survey grid encompasses one section that is approximately 30 meters (along shore) x 20 meters (seaward). Click here to view Biodiversity Survey findings at this site.
For more information about Sea Lion Rookery, please contact Stephen Whitaker (stephen_whitaker@nps.gov).
See
Also