Navy South | MARINe
Navy South
Click here for Long-Term trends
Navy South is located in the South Coast region of California, on the outer Point Loma Peninsula in San Diego, and is 0.2 miles north of the Point Loma Lighthouse Mussel Watch site. This site is located on a Navy base, and receives few visitors due to access restrictions and high coastal bluffs. This moderately sloping site consists of moderately uneven terrain, containing relatively few large crevices and folds.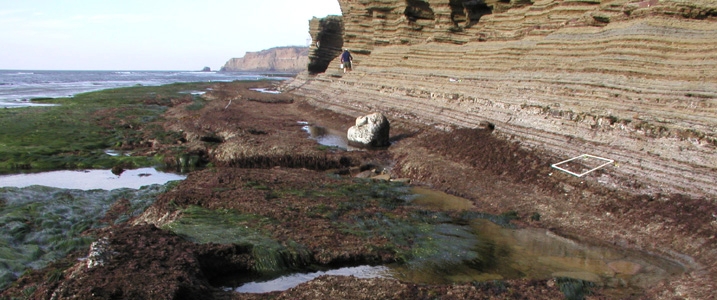 Navy South is dominated by a mixture of consolidated sedimentary bedrock, boulder fields, and cobble beach, and the area surrounding the site is comprised of a mixture of consolidated bedrock, boulder fields, and cobble beach. The primary coastal orientation of this site is west.
Long-Term Monitoring Surveys at Navy South were established in 1995, and were done by University of California Santa Barbara, but are currently done by Cabrillo National Monument. Long-Term MARINe surveys currently target the following species: Chthamalus/Balanus (Acorn Barnacles), Tetraclita (Pink Barnacle), Pollicipes (Goose Barnacle), Mytilus (California Mussel), Silvetia (Golden Rockweed), Red Algal Turf, Phyllospadix (Surfgrass), and Pisaster (Ochre Star). Click here to view Long-Term trends at this site.
For more information about Navy South, please contact Suzanne Graham (suzanne.graham@navy.mil).